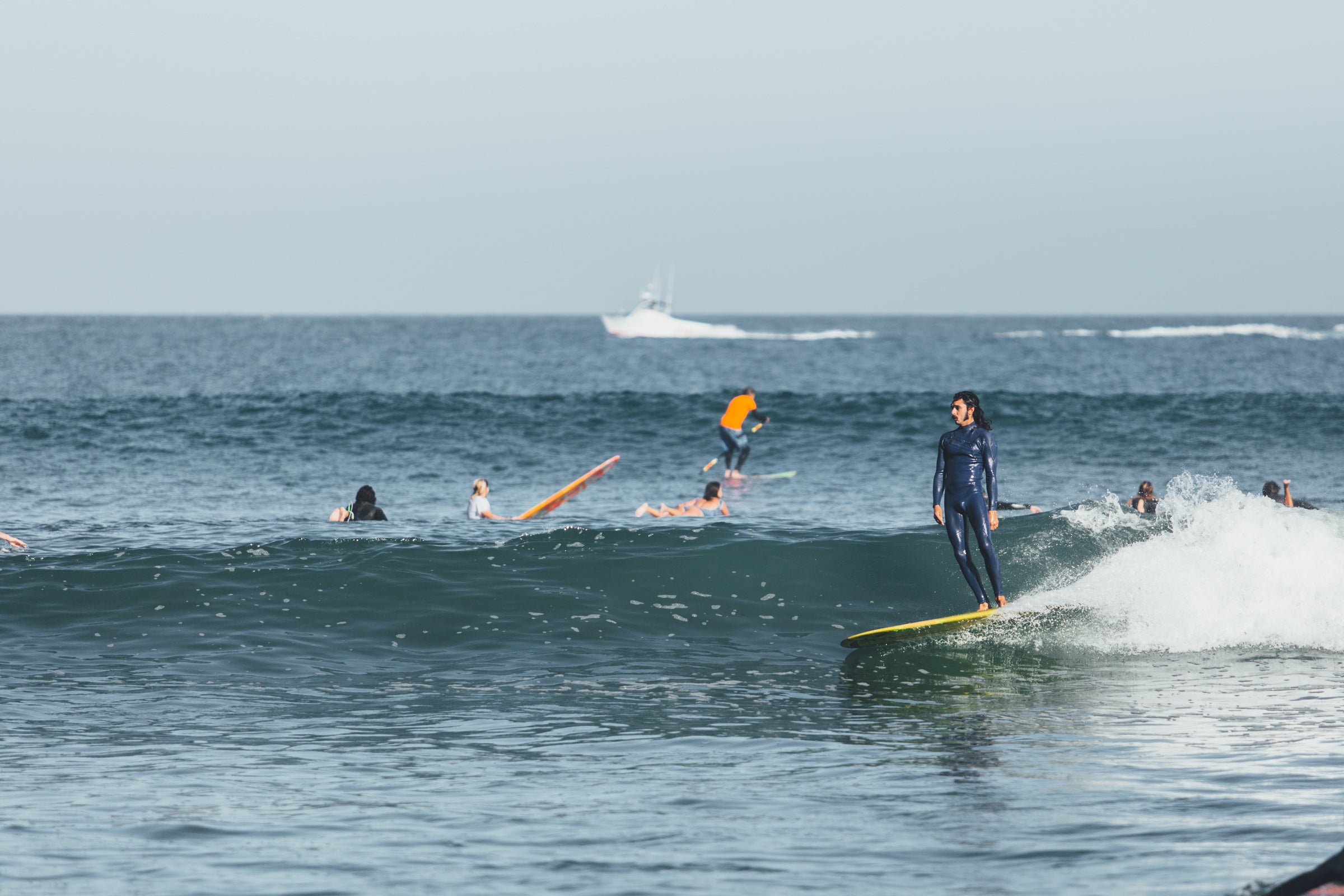 Statistically speaking, 20% of the surfers catch 80% of the waves.
Don't be in the 80% of surfers battling over the remaining 20% of the scraps—up your wave count in 2021.
Three ways to up your wave count next year:
Change Your Approach
Change Your Surf Spot
Change Your Equipment
Change Your Approach:
If you watch Nathan Adams surf San Onofre, you'll notice that he is either the furthest one out (waiting on a set wave that he can glide into early), or he is the closest one to shore (picking off lots of smaller inside waves).
Personally, I do most of my surfing at the same spot, so I know which peak I like and where I like to sit.  However, when it gets crowded, I don't sit on my exact spot... I sit inside and a little deeper than I want to be.  So when I see a wave start to break the horizon that I think might line up with my favorite peak, I go out to meet it from my waiting position further inside.  I do that so I don't invite other surfers to come sit right next to me at my takeoff spot.  I beat them to the spot because I'm waiting for it to arrive.  Does it always work? No.  But when it does it feels really good.
Whatever you do, don't just sit in the middle of the pack and complain that you didn't get enough waves.  Try mixing up your approach and see what works and what doesn't.  The times I find my imagination drifting off into a mid-surf day dream are the times when my wave count plummets. Switch up your strategy and get yourself into more waves.
Change Your Spot:
In addition to the rule that 20% of surfers catch 80% of the waves, you could also say that 80% of surfers pile into 20% of the available surf spots.  You would be amazed how many beautiful waves go unridden every week because are breaking in a spot that requires a little more walking, biking, paddling or imagination to get to.
Some days you just want to surf with familiar faces and have the shared camaraderie in the water.  Other days, you just need a few quiet moments and an empty lineup.
Change Your Equipment
If you know where you want to go with your surfing, you can start to narrow down the right equipment to get you there.  This is a topic we have written about fairly extensively, and will continue to do so.
Whether you want to perfect the art of noseriding or push a board through cut-back after cut-back on your way to the beach, our job is to build the equipment to get you there—and match you with the board that gives you the best success.
As we look ahead to 2021, figure out which area of your surfing needs a touch of attention to make sure you are making the most of the moments you get to be in the water.  
View Our Surfboard Models
Read Our Guide to Surfboard Design
Read Customer Reviews