Almond Surf Shop is 14 Today!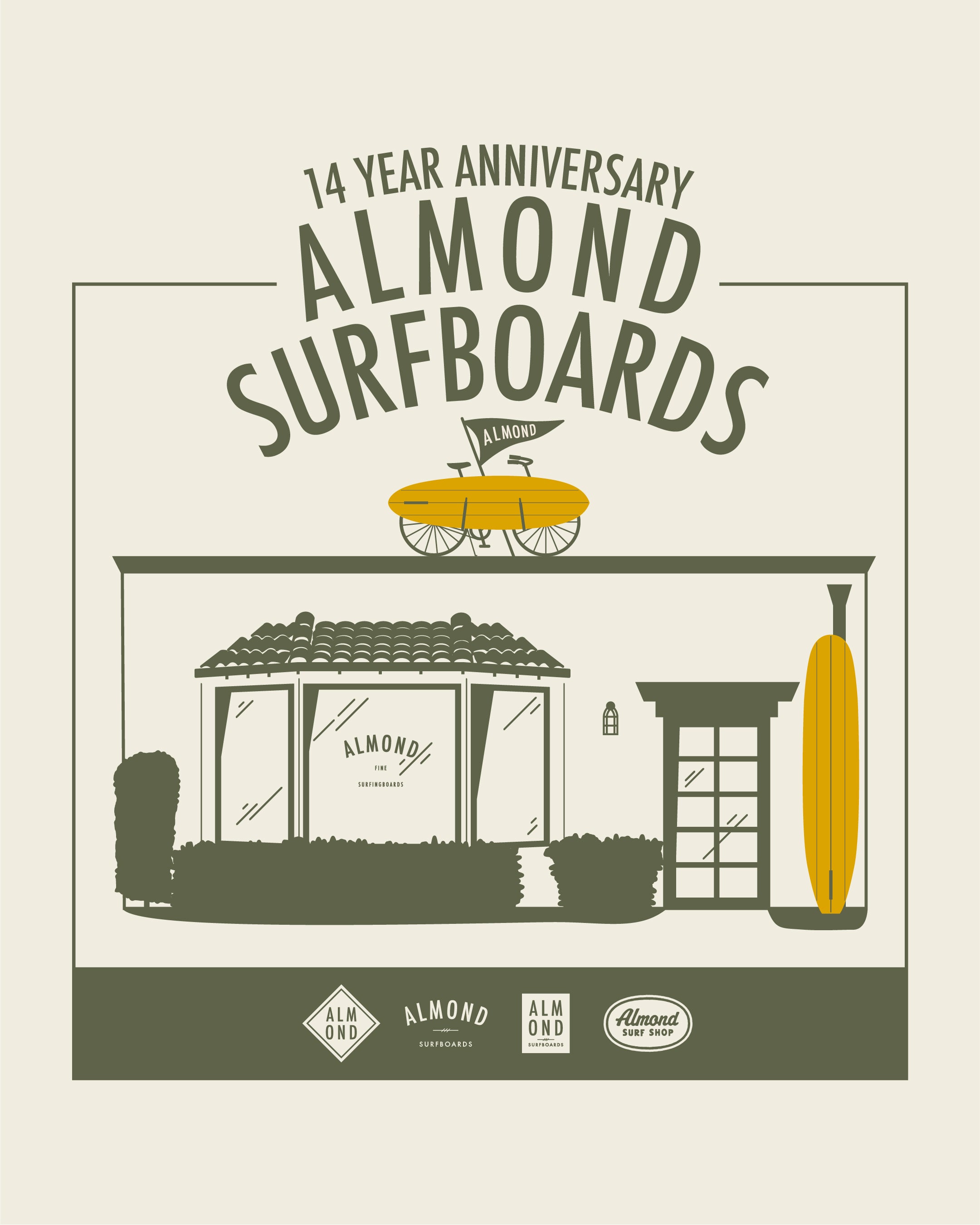 14 years ago in a tiny, termite-ridden building on Old Newport Blvd, we opened the doors to our very first little surfboard store.  The concept was simple, and our relevant experience was thin. We wanted to create a surf shop that was welcoming, inviting, and felt a bit like home.
That's why the first iteration of the shop had a couch near the checkout, a wooden bench by the front door, and usually had a revolving cast of folks just hanging out. 
What the building lacked in structural integrity, it made up for in charm.
I was 22 years old the day the shop first opened its doors. I had just met Griffin about 6 months prior. Our complimentary skills and interests were a quick match: he wanted more surfboards to shape and I wanted to create a brand around the things I cared about.  At that point I think I had shaped about 25-30 surfboards, and Griffin was apprenticing for the late Bruce Jones.
What we lacked in experience, we made up for in passion.
Those early days of Almond was a full team effort, you couldn't hang around the shop very long before someone handed you a proverbial paintbrush and said "here, you can help too..." It was a full family affair.
I wish that I had documented more of the process, but this was before the days of Instagram, Facebook was for college students, and I had never heard of a podcast. Our story was documented on this blogspot account that I still get nostalgic looking at. 
We have gone through many iterations of the business over the last 14 years, but many of the values have remain steadfast. 
I just want to make products that bring great joy and last for a very long time. I want to equip folks with the tools and gear to open up new, formative experiences out in nature.  You can tame the ocean, but you can immerse yourself in it and when the right wave comes at the right time and send you screaming down the beach with a board firmly beneath your feet, it's a genuine delight—a pure form of simple fun. 
It's a little bit funny reflecting back on 14 years of the shop today, while the shop is currently closed for renovations, but it's also a helpful exercise to look back on where we've been as we continue to refine where we are going next.
I hadn't looked at photos from the Pacific Coast Hwy years in a very, very long time.
This story isn't about me, or us.  Although the stories are rich and the lessons are real, the last 14 years has been about you guys—the folks we serve. 
These days, we send surfboards all over the world—to beaches, cities, and countries that we'll never visit ourselves. Many of the boards we build will out-live us. We're not the hero of your story—we're just here to play a part. To equip you for all the adventures that lie ahead and to encourage you to make time to get in the water regularly, because we genuinely believe that will yield good things.
There are so many people that I want to thank for keeping this dream alive for 14 years (and counting). There are so many lessons about small business that I want to share (if for no other reason than to make sure I don't forget.) There are so many new things we want to create to equip and empower you to get out and snag a few good waves from time to time.
As I reflect back on a 14 year long roller coaster of small business and life, my advice is simple: slow down. 
Resist the urge to get caught up in the frenetic pace of life. 
Allow yourself the opportunity to slow down. If I could send a post card to the 22 year old version of myself who had just signed the lease for a new surf shop in his home town, that would be my advice. Slowwwwww dowwwwwwn and enjoy it. The game is long, the moments are sweet, and the simple joys will always outweigh the next shiny accomplishment or self-imposed list of expectations.
There are many things we are excited to share with you when the shop reopens. In the meantime, we are still here to serve you, and we're still building surfboards every day.
As part of looking back over our 14 year history, we revisited a few of our favorite t-shirts from over the years, check out a few of our past favorites.
I'm forever grateful,
Dave Allee