Surfboard Care & Repair Guide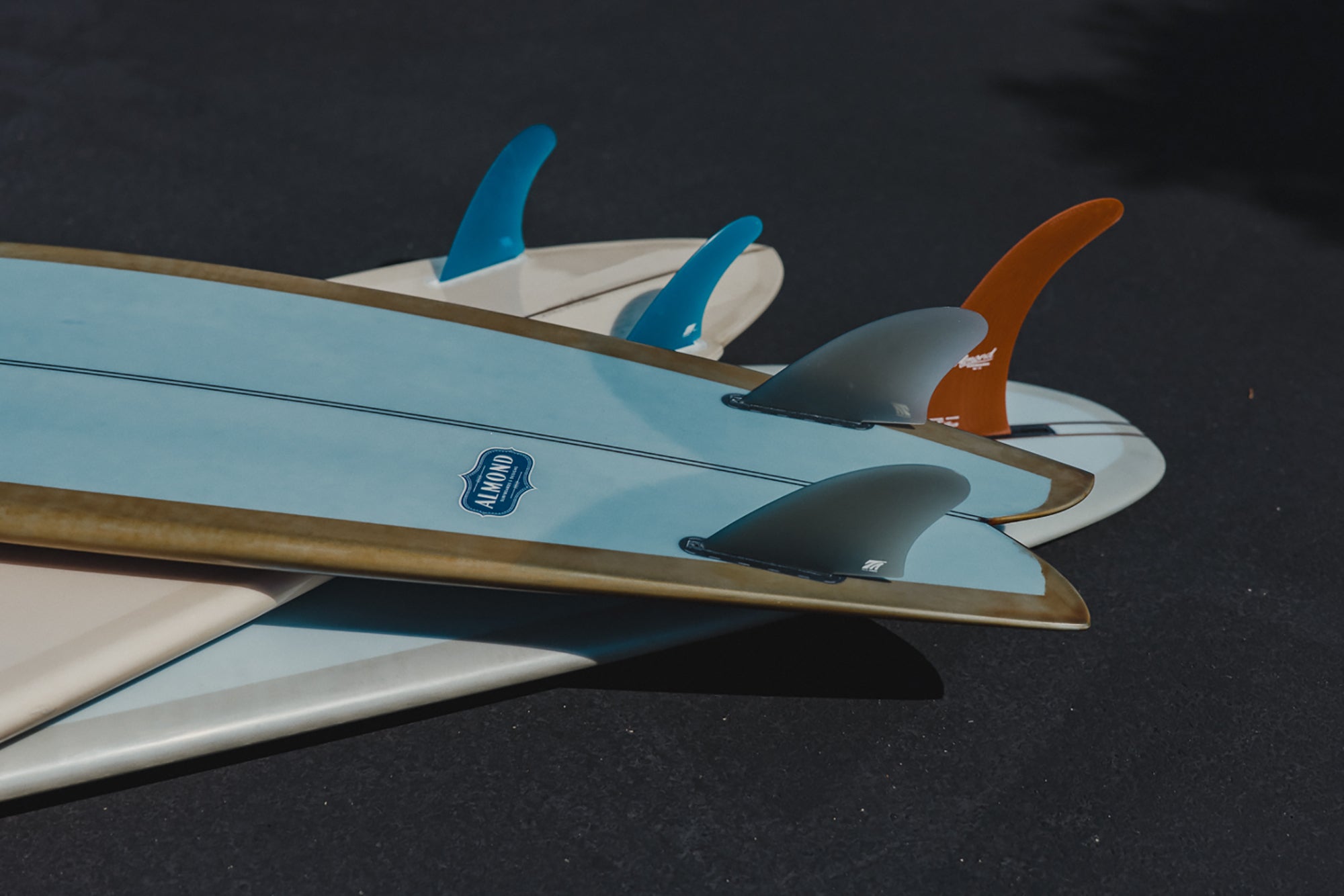 Caring for and repairing your surfboards—all surfboards—is key to ensuring their longevity, and the longevity of the joy they bring you as a result.
We put together this care & repair guide to ensure your custom Almond Surfboard stays an active part of your quiver for many years to come.
You can find the R-Series Care & Repair Guide here.
Elements of Your Surfboard
Fiberglass:
First off, let's talk a little bit about fiberglass, which makes up the hard exterior shell of your surfboard.  Fiberglass is a common material in boat, car, airplane, and surfboard construction.  
The strong fiberglass shell that you see on the outside of your surfboard was achieved through a chemical reaction between layers of fiberglass cloth and catalyzed resin.
Laminating a surfboard is an art form, requiring years of experience to do correctly—particularly when colored tints are added to the resin. You can read more about what makes resin tints unique.
 Foam Core:
The body of your custom Almond surfboard is made of Polyurethane Foam, or PU Foam for short.  PU foam is a preferred medium for surfboard shaping because of its smooth cutting and finishing properties, it's strength-to-weight ratio, and its lively feel under-foot as a finished product.
The downside to PU Foam, is that it does not like exposure to water.  So any ding or crack in your surfboard's fiberglass shell that allows water to enter the board and get to the foam needs to be addressed.
If you notice areas where your foam is turning brown, that's because water is getting in and the integrity of the foam is being degraded.
PU also does not do well with prolonged exposure to direct sunlight.  
Stringer(s): 
There is likely one (or more) wood stringers running the length of your surfboard. 
The same way concrete needs rebar to give it strength, foam needs a stringer to give a surfboard it's structure.  The stringer also plays a critical role in defining the surfboard's rocker profile.
You can read more about stringers here.
Fin Box(es):
Your custom Almond Surfboard features some combination of a universal longboard center box and/or Futures fin boxes.
Both boxes are incredibly common and popular due to their reliability and versatility.  If you have a single fin box, nearly any single fin you can find on the open market will fit in your surfboard.  However, consideration should be taken when finding the right fin to match the tail shape of your surfboard.
Things That Damage Your Surfboard
General Dings:
Although fiberglass is strong and durable, abuse to your surfboard will cause dings, dents, and cracks.  These can be caused by: rocks, other surfboards, falling to the ground, careless maneuvering (in and out of the water), and poor storage at home.
I have a theory that more than 70% of dings occur out of the water.  Treat your surfboards with care, especially when you're not using them. Wall racks, board bags, and moving slowly all help avoid dings out of the water.  
De-lamination Caused by Heat:
The fiberglass shell that covers your surfboard does a great job of making it waterproof, but it also blocks the flow of air from inside your board to outside.  This is only really a problem if your surfboard gets really, really hot.
Exposure to heat can actually cause the fiberglass on your surfboard to bubble up.  This generally referred to as a "delam" and its honestly one of the worst damages that can befall your surfboard.  Delams are hard to repair, and can oftentimes return—even after the repair has been completed.
If you do get a bad delam, the entire area needs to be cut out and patched with new fiberglass. 
Ugly.
It's best to keep your surfboard out of direct sunlight when not in use, and away from anything that may cause extreme heat (motorcycle tail pipes, heaters, afternoon light through windows at home)
A good surfboard bag will generally be light in color (or even reflective) to help protect your board from over-heating in the sun.
Stress Cracks
Stress cracks occur when the board undergoes extreme flexing, to the point where the fiberglass cannot withstand the flex and begins to crack.
This usually occurs when you fall off a wave, and the wave drives your board nose-first into the sand.  Stress cracks will generally worsen over time, and eventually water will start to creep its way in to the foam below.  If your board experiences stress cracks that seem light or minimal, just keep an eye on the foam below to ensure it isn't discoloring.
Repairing stress cracks varies from case to case.  Sometimes you can simply sand and refinish the hot coat or gloss coat—other times it requires more invasive efforts to remedy the problem. 
Pressure Dings
Pressure dings are common and vary from barely noticeable to knee-sized craters.  Pressure dings can be the result of repeating pounding of your heels or falling knee / elbow first into a flat area of your surfboard.
Surfboards get two layers of cloth on top, and one on the bottom—meaning the deck is twice as resilient to pressure dings than the bottom is.  
A small pressure dent typically is just a minor cosmetic addition to your board, and needs no additional attention.  
How do you know if a ding needs repair?
The rule of thumb is: any ding or crack that you can feel with your thumbnail, probably need immediate attention.
That's because you do not want water getting in to the foam (see foam section above).
Repairing Your Surfboard
The first rule of surfboard ding repair is: fix your dings early, before small issues turn into bigger ones.
There are loads of resources on how to do ding repair, and there are kits you can purchase that provide all the materials required. 
 Because a surfboard is comprised of a foam core with a thin, color-tinted fiberglass shell, color matching for ding repairs is.... very tricky.  Matching colors when repairing a ding is a mix of skill, patience, and luck.  Just be prepared for visual reminders of a ding, even if it has been professionally repaired.
The best way to keep your surfboard in mint condition is to take really great care of it.  Store it in a bag, or in a rack.  Avoid situations that are likely to result in collisions in the surf lineup.  Don't leave your board baking in the mid-day sun, and most of all, remember that surfboards are meant to be surfed. 
Bumps happen. 
Scratches and imperfections are just marks to remind you to hold things loosely, and are signs that you're actually using your surfboard for its intended purpose.