7'2 Winged-Twin Rounded-Pin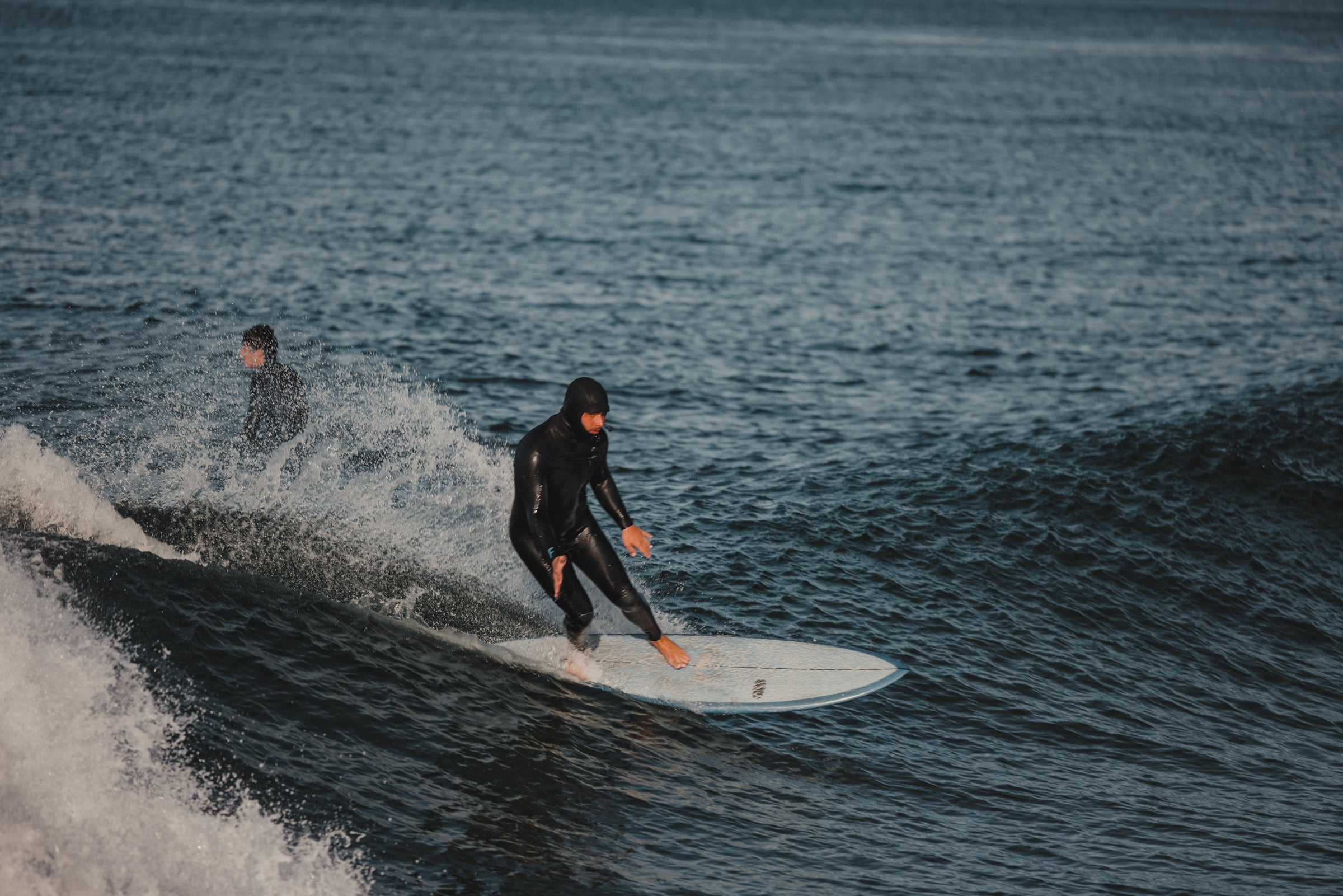 A good friend of mine once said, "Every board goes… some boards just go better than others."   This blueberry tint 7'2 Winged Twin Rounded Pin is one of these rare boards that just
goes better than others
.
In late 2019, I asked Griffin to shape me a board that would marry the paddle-power of a mid-length with the drive of something much much shorter.  I loved the idea of a longer twin fin that could maximize speed and draw long-beautiful lines.
This is what Griffin came up with—wide point set far forward, small wings, & exaggerated Vee in the tail.  Meet the WTRP.
Editor's note: If you sound out WTRP, it sounds like Wyatt Earp.
From overhead Lower Jetties, lined up Trails, to heavy El Porto; when Southern California get hit with swell there are two options: make a hairpin drop or get into the wave a bit earlier.  I tend to like option number two.  The Winged Twin Rounded Pin has plenty of volume placed towards the front of the board which allows for easy paddling and earlier takeoffs, even on some of those bigger days.  The pulled in pintail allows the WTRP to sit in the pocket of any wave; and the upright keel fins provide all the drive one could ask for.  This makes the board a blast to ride in almost any conditions; but the WTRP really comes alive when the waves get a bit more critical.
After a full year of surfing the 7'2 WTRP, I come back to report nothing but good news.  This board does everything I hoped it would.  Griffin has an uncanny ability to turn my half-baked idea into something incredibly functional and fun. 
This blueberry tint board has traveled from Santa Cruz to San Diego, catching waves at many of the best breaks along the way.  All I can say is, this board is
FAST
.  The smallest push on the tail can immediately send me around sections and forces me to draw different lines than I had previously thought possible.  In the end, that's something I really enjoyed the most.  The 7'2 WTRP is now a staple in my personal quiver and has opened my mind to exploring different parts of the wave.  As my buddy once told me,
some boards just go better than others. 
Stay tuned as we continue to explore more one-offs, special-builds, and experimental surfboards.