Making the Jump from "Foamie" to Fiberglass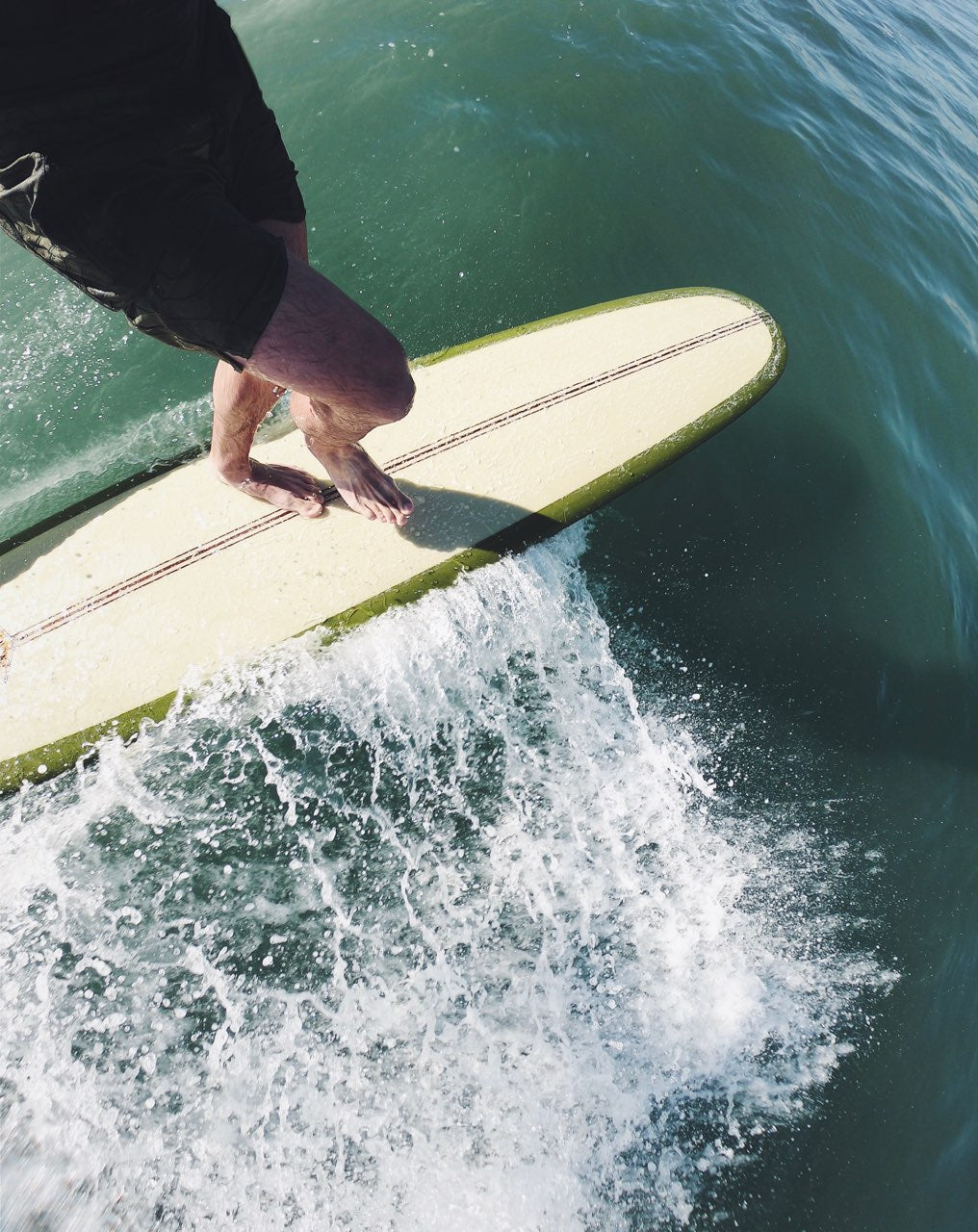 So, you've been riding a "foamie" like an R-Series Surfboard for a couple years, and you're starting to think about making the jump to a fiberglass surfboard.
There is a reason that the majority of surfboard construction has remained mostly unchanged for the past 60 years... a surfboard made of wood stringers, a foam core, and a fiberglass shell just plain works.
Our fiberglass surfboards are relatively light, strong, and built to last. We did the math last year and determined that well over 99% of the custom surfboards we have built since 2008 are still in use.
When cared for properly, your fiberglass surfboard will last you decades.
So, what do you need to know about making the jump?
Glass boards will travel faster through the water and feel slightly more responsive under your feet than a foamie will. Fiberglass is designed to have a slight flex, and spring-back to it—giving your surfboard a lively and responsive feeling under-foot.
Granted you will have to start waxing the deck of your custom surfboard—as there are no EVA traction deck pads built into your board.  Wax created bumps and keeps you firmly planted on the deck of your board.  I prefer the Vans Waffle Sole approach when waxing my boards. (Lots of intersecting diagonal lines that create little diamond-shapes.)
Here is how Kyle Mix likes to wax his board:
We understand that new surfboard selection is a big decision... however do not let the abundance of options intimidate you. We have a useful "Which Surfboard is Right for Me?" quiz that can help you narrow down the options.
Ultimately, use the board you have been riding as the primary reference point. Let's say you have been riding an 8'0 R-Series Joy for a couple years, reflecting back on your surf experience, would you prefer to:
A. Go with something longer so you can appreciate the glide (and eventual noseriding) of a proper longboard.
B. Go with something smaller so you can begin to explore more parts of the wave—and do more turns.
C. Stick with something
versatile and mid-sized
, like
the Joy
, only in a slightly more performance-oriented, fiberglass construction.
Unless you can answer that question with relative clarity, I wouldn't buy any fiberglass board. Keep surfing your R-Series Joy until you feel like your interest is being pulled one of those three directions.
As we have said many times, we believe the ultimate aim of every surfer should be proficiency on a wide range of equipment. 
Eventually, you will probably want a longboard, a mid-length, and a small board in your surfboard quiver, but our advice in the short-term is to commit to the one that interests you the most and put in a bunch of time on that one board.
By investing the time on one board, you will master the little nuances, feelings, and moments that are unique to that style of surfboard.  With that knowledge and experience under your belt, you can more readily appreciate the differences that other boards offer.  But, as many people are guilty of, if you never pour the time in on one board—constantly jumping between equipment—you'll never establish the baseline of understanding to truly be able to appreciate the different feelings offered by different shaped boards.
All that to say, when you are ready to make the jump from a foamie to a fiberglass board, find the board that best suits the style of surfing to hope to do and then go surf that board exclusively for the next 6-12 months. You will be setting yourself up for long-term success in the surf lineup.
What's Next?