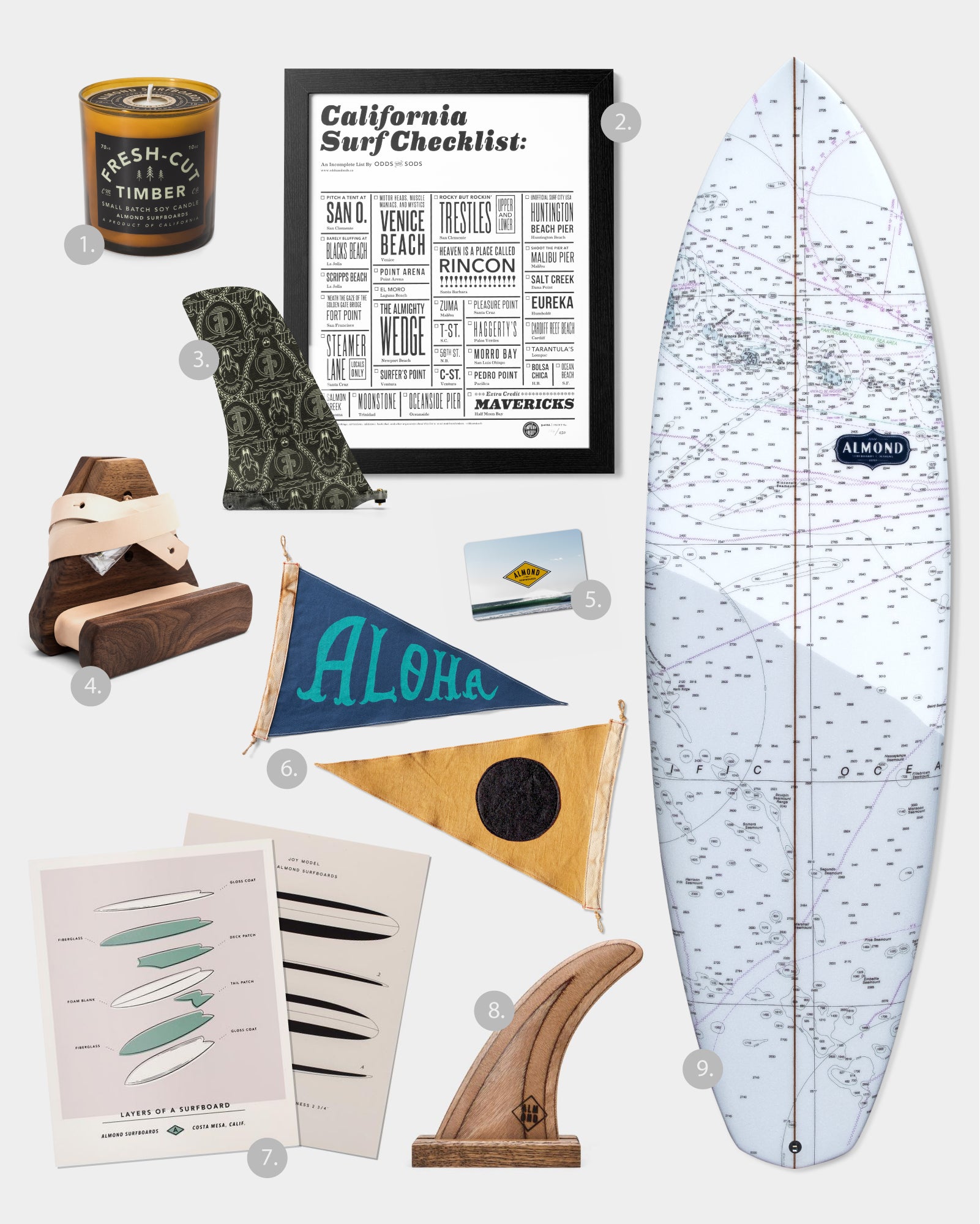 Surf Decor is a tricky one... you want to weave elements of surf culture into your home, but you don't want it to look like a themed restaurant. 
That means finding some tasteful pieces that blend seamlessly with the rest of the house, without apologizing for their surf-centric nature.
Here are a few items that are perfect for the just beachy enough home: 
Looks good, smells great.  A perfect gift because it's consumable, meaning they will get use out of it for several months, but don't need to keep it for the rest of their lives.  It's like giving someone a bottle of wine, but it lasts much longer and can be enjoyed by all who enter the home.
2. California Surf Checklist Poster
It's an artful addition to any surfy room, and serves as a mental checklist for your next California road trip.  One of our best selling pieces in the art category.
Desert pattern by Josh Ariza of Chomp Brand, applied to our tried-and-true Huck Fin template.  Perfect for use in the water, in the tail of your Lumberjack, or on a shelf in your office.
4. Vertical-Mount Surfboard Wall Racks
The best solution for that tall, narrow wall at the landing of your staircase.  Now you can securely and stylishly mount a surfboard vertically in that space.  You can even mount it with the bottom facing outward, so your dinner guests don't know the deck is waxed and the board is actually your Saturday morning go-to.
5. Gift Card
Give the gift of options this Holiday season. Available from $25 up to $1,000.
6. Slightly Choppy Surf Spot Flags
Take home a memento from your favorite surf spot—these flags work great individually or in sets of a few.
7. Almond Hand-Screened Posters
Designed and screen-printed in house, these posters celebrate our favorite elements of surfing and surfboard-building.
8. Wooden Display Fin (with Base)
Hand-foiled by Gully, just like the real thing, these plywood Joy fins are meant to set up on a shelf or on your desk, with the subtle wooden base to support it.
9. 6'0 Quadkumber with Nautical Chart Print
The nautical chart surfboard is fully-functional, but also a major statement in any room.