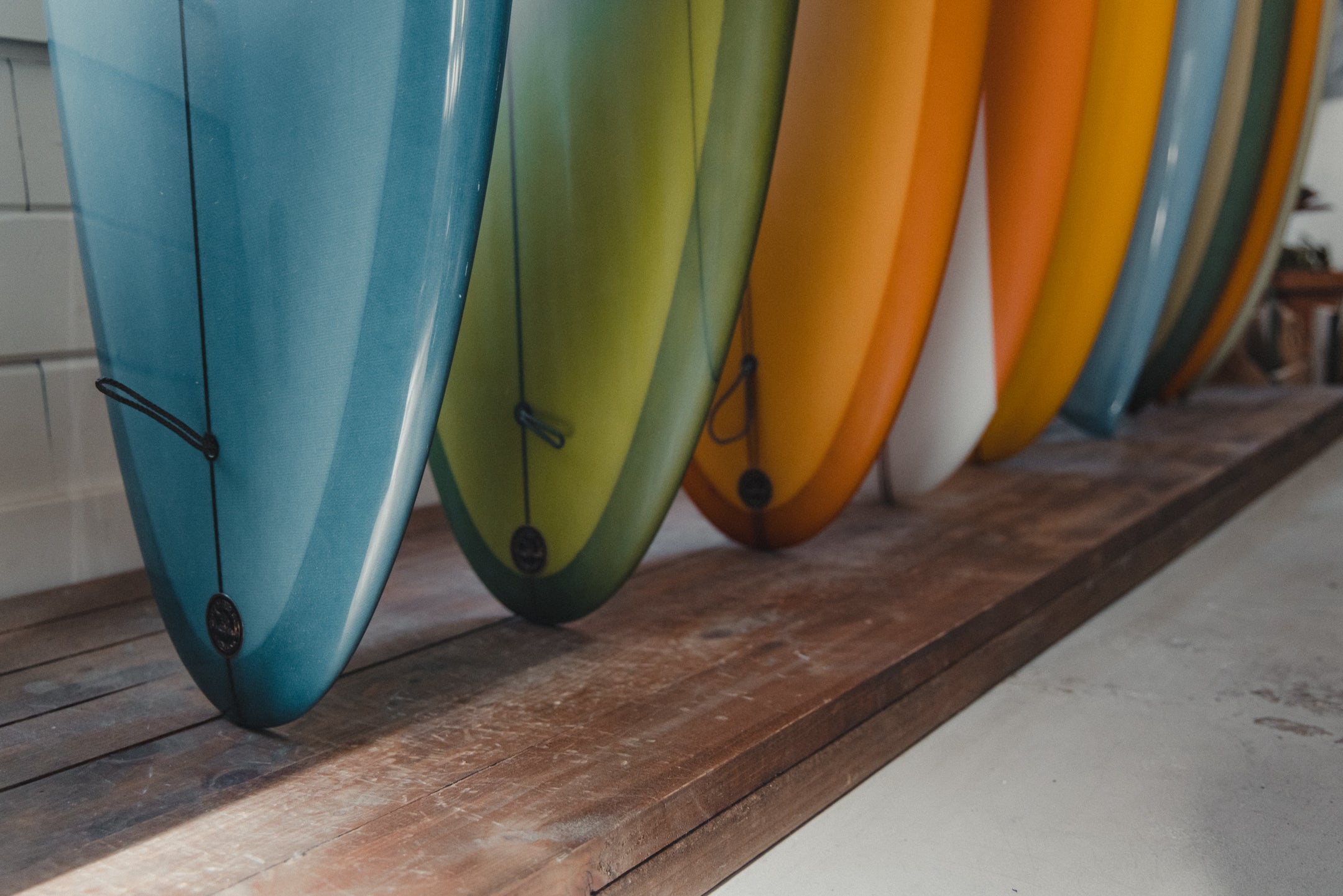 A new surfboard should solve a missing need in your quiver, and usher in a new chapter.
Whether the goal is to improve your noseriding, cover a wider array of conditions, or step down to a smaller board, every new surfboard you add should have a clear purpose.
We love hearing the stories of the ways the boards we build help advance your surfing and open up new doors.  Here are a few recent customers who were kind enough to include photos with their reviews...
"The 7'6 Joy was the first hard board I ever purchased and it was the best decision I've ever made. This board upped my wave count and gave me enough confidence to get in early and explore the face of the wave." -Cole K. 
"I had been a fan of Almond for a long time prior to goin for a new log and I have no regrets with the Lumberjack. All of these boards are gorgeous and durable but most importantly this thing works. Glides into any thing but versatile enough to navigate some bigger days. When you find the right spot on the wave this thing is magic. Not to mention the folks at the shop are top notch!" -CJ M. 
"Before moving to San Juan Island in the Salish Sea, my whole life had been revolved around surfing from where I lived to my day to day schedule like most of you reading this. SJI though is completely blocked by Vancouver Island from the West and mainland WA from the south and all sorts of islands from the north. Long story short, I believed for my first 4 years of living here there was no surf here. That was until I caught wind (no pun intended) of a special sort of dynamics that can happen the actually will generate rideable waves. Basically, the winds need to be from the SE sustained at 15mph or greater for over 6 hours with a low tide and voila.... blown out long board waves a couple times a month. Beggars can't be choosers right? Oh, and one more caveat.....our waters are littered with actual trees in the lineup. It brings a whole new meaning to avoiding the loggers out there. Well that literally made my entire quiver completely useless and needed to find a soft top that could do the job beyond a Costco stick. Bouncing off limbs, stumps, logs, and whole trees is an every session experience and the soft top makes those hazard no longer one....for the surfboard at least;) Almond Sufboards came up in my searches when I began my research and the 8'0 Joy entered my life and did exactly that....brought the "Joy" of surfing back in to my life. The Joy paddles and handles like a normal surfboard and takes the beating from the obstacles with a grain of salt. I truly couldn't ask for a better sled for our waters. Thank you Almond and whether it's a fiberglass or soft top board, I'll always be loyal to your boards. By the way, the very next year I added a 6'4 Pleasant Pheasant to the lineup for the 20-30mph days and it is a gem." -Cy S. 
"I've had this 9'4 Surf Thump for a while now and especially this fall, it has been my go-to at San-O. I love how responsive it is with both the D-fin and the pin and has really helped me work on styling it out there. Not to mention it looks great outside of the water too." -Nathan W. 
"I've been a logger for a little over 10 years now. I was interested in trying out a short board and found Almond Surfboards. Friendly knowledgeable staff who helped me out and guided me in the custom board process every step of the way through. The BBF has a lot of volume for it's dims and I had a very good first impression trying a shorter board than my usual 9'2". Highly recommend for those who are experienced long boarders who want to give short boards a try!" -Makoa F.