Board Comparison: Pleasant Pheasant vs. Joy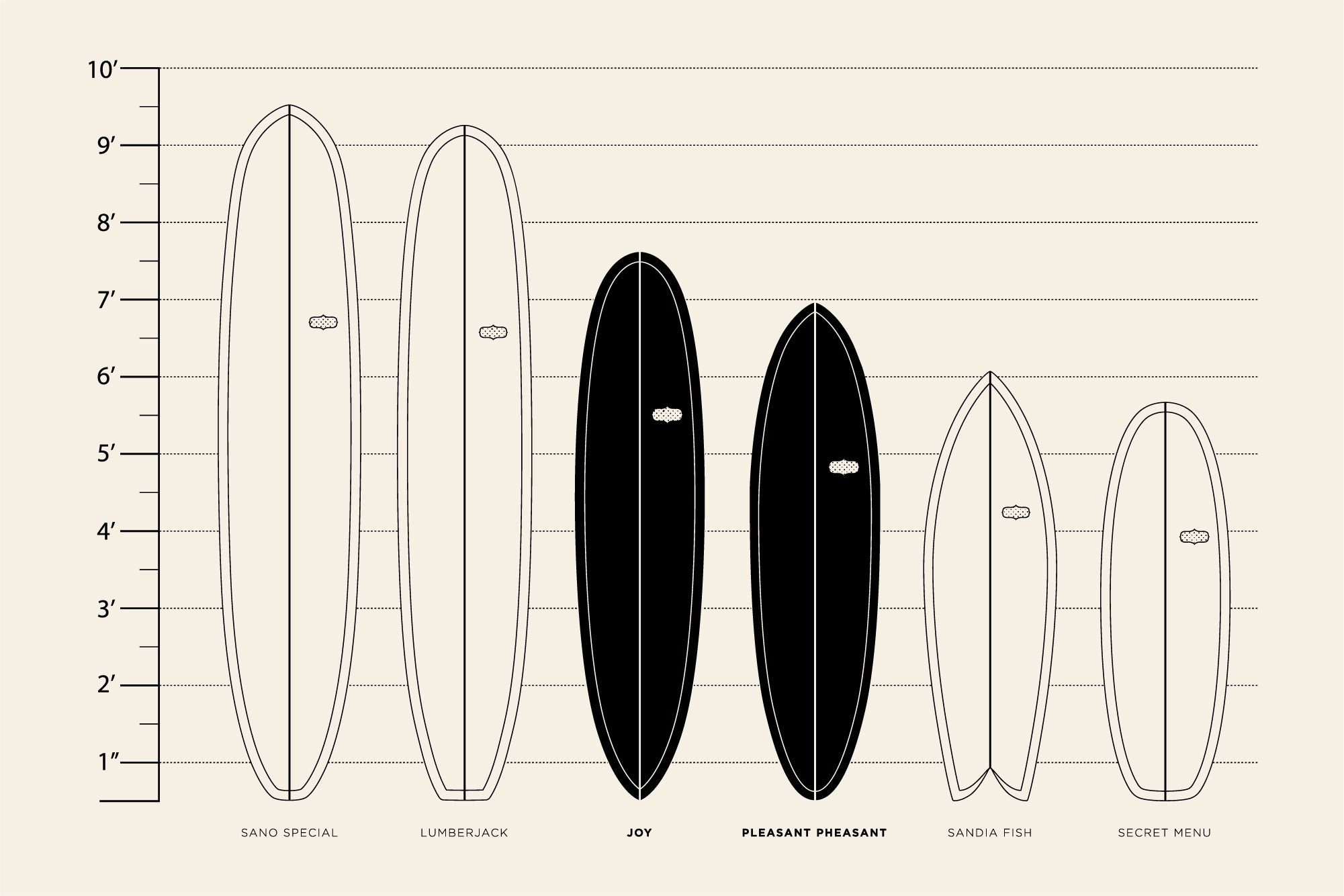 We get this question several times every week, from surfers looking to round out the mid-sized portion of their surfboard quivers: Which is going to be better for me, the Joy or the Pleasant Pheasant?
Fortunately, these are two of our best-selling, and most widely loved surfboard models—so you could argue that you can't totally go wrong with either.  But our aim is to set you up with the best equipment (both for where you've been and where you're going).
The first thing to consider is where you've been:
I. The Joy is a more natural
step-down
for a longboarder looking for more maneuverability, because of its inherent glide.
 II. The Pleasant Pheasant is a bit more natural as a
step-up
into the realm of mid-lengths, for surfers who are more accustomed to fishes, shortboards, and the like—because it prefers a more proactive approach to turning and generating speed.
The second thing to consider is where you're going:
I. If wave-count, and general effortlessness is your aim, the Joy is the board for you.
II. If exploring more parts of the wave and improving your ability to link turns together is the goal, go with the Pheasant.
There are some gems in there about other surfer's personal journeys and experiences. 
Recent Joy Review:
"I debated for a while between the Joy and the Phez and ultimately decided on a 7'6 Joy. Their description of it is spot on. If you're looking for something that can paddle into waves like a longboard but is easy to maneuver around on the face of the wave, look no further!
I was shocked by how easy it was to transition from an almost 2 foot longer board to the Joy and was catching waves with ease the first time I took it out. It's now become my go-to unless it's complete mush.
Great quality on the build and always a good time on the Joy. Highly recommended!"  -Scott P.
Recent Pleasant Pheasant Review:
"I've had my Pleasant Pheasant for about 3 years. I've been surfing for 30 years and it is the best board I've ever owned. Paddles like a longboard but still turns when you need it too. Fun Fun Fun!!"  -Brian B. 
Adding Your New Board to Your Quiver:
Once you decide which model is best-matched to you, there are several ways of adding one to your quiver:
2. Both models are typically available in several lengths in our
current stock
.
3. Both models are available for
custom order
, if you want us to build you one to your specifications.
Whichever direction you choose to go, dig deep, catch waves earlier in their formation, and enjoy the gift of riding ocean waves for pleasure and delight.