You Just Picked Up Your New Surfboard...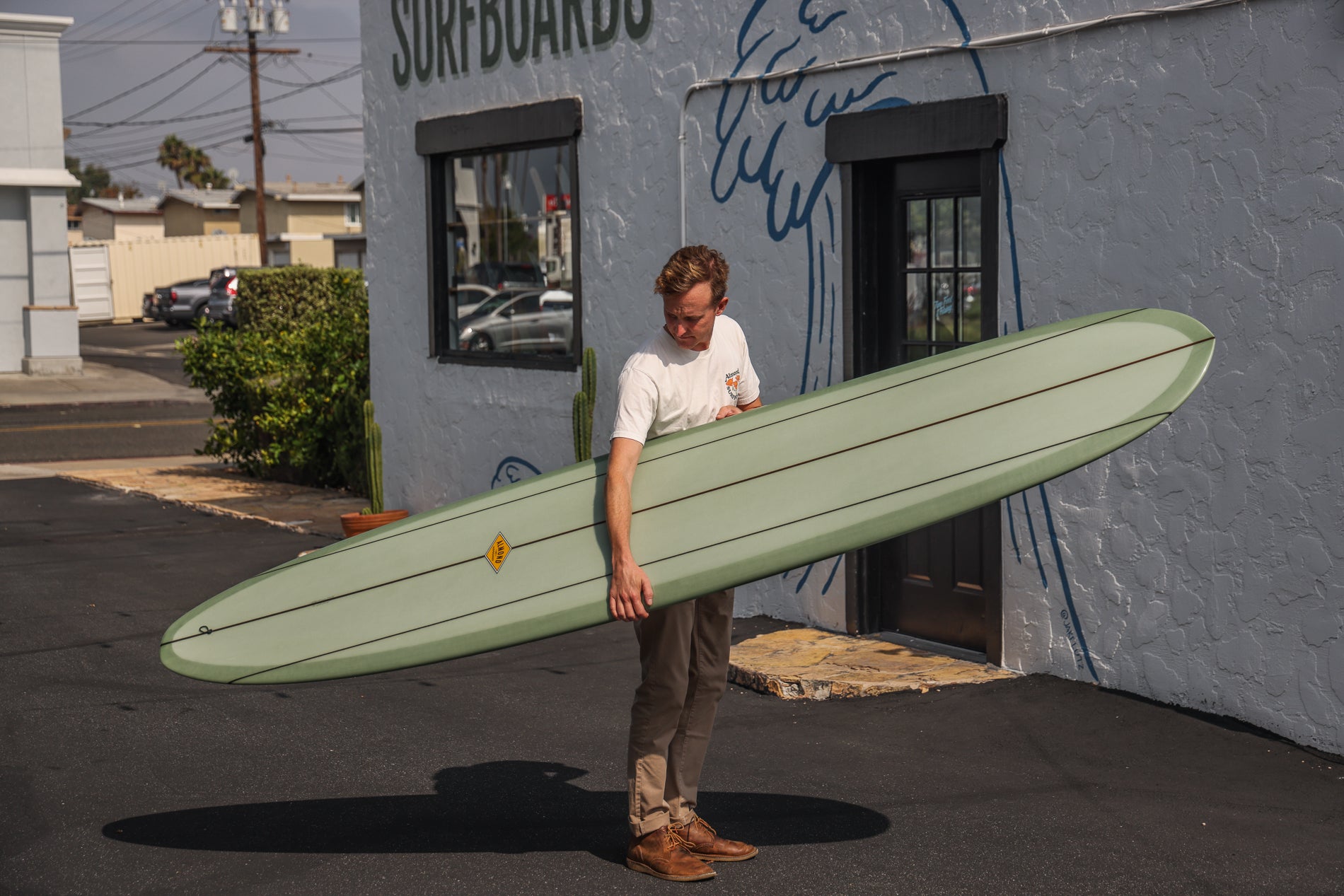 You just picked up your brand new surfboard, here's what to do next:
Regardless of which construction your new surfboard is, the first objective remains the same... get your new board into some fun waves as soon as possible.
There are two schools of thought here:
A. Go to the spot that is most familiar, your home break. This is the place you know the best and are most comfortable, so paddling out here on your brand new board should feel exciting and empowering. You likely just added some extra wave-catching power to your usual routine.
B. Make a pilgrimage to a special surf spot. I don't know about you, but the place I surf most regularly is NOT the spot with the best waves in the region.  You just picked up a brand new board, and you want to give it a proper maiden voyage—which might mean driving a little further to reach that special stretch of coastline. Early-wave-catching and extra long rides await.
Setting Up Your New Surfboard
For R-Series boards, set-up is incredibly simple.
Unlike a traditional fiberglass surfboard, you do not need to wax the deck of your R-Series—the board is ready to surf the moment you install the fin(s). 
All of the fin boxes in our R-Series range are universal, and will be familiar to experienced surfers. (We use a universal-style center box for the single fins, and Futures brand fin boxes for the side bites and quads.)
If you aren't familiar with fin installation, watch this video below:
Fin Install | R-Series 6'4 Pleasant Pheasant from Almond Surfboards on Vimeo.
While the video above is specific to the 6'4 Pleasant Pheasant, we chose it strategically, because the center box is the same across the 6'4, the 8'0, and the 9'2. And the Futures side bites are the same across the 5'4 and the 6'4. 
Again, to repeat the point from above, you want to get your new R-Series into some fun waves as quickly as possible.  Keep and eye on the forecast, and work a proper surf into your schedule ASAP.  
Setting Up Your Custom Surfboard
Whether you ordered a custom board or found your perfect board in the racks of the shop, you have just made a tremendous investment in your future fun. Many, many great waves lie ahead.  These boards are built to last for decades, when cared for properly. 
Fin installation is straightforward, same as the R-Series boards, we utilize universal center fin boxes for all single fins and Futures brand fin boxes for all side bites and quads. Any experienced surfer will be familiar with these systems.  The R-Series 6'4 Pleasant Pheasant video above remains a great resource if you are unfamiliar with fin installation.
Waxing your board is a necessary step, to add a thin layer of grippy traction to the deck of your board.  This gets confused by new surfers sometimes, because apparently you wax the bottom of skis and snowboards to make them slide better.  Well, surfers have it backwards, we wax the deck to make it grippy, so you don't slide off your board.
Tips for waxing your surfboard:
Find a cool place, out of the sun to wax your board. Wax won't go on a hot board.
Start with base coat and do a thin layer—nose to tail and rail to rail—anywhere your feet or hands might go. (You can stop at the cut-lap if you need a guide)
Come back over the base coat with cool (or whatever temperature wax is appropriate for your local waters). I like to use the Vans waffle sole pattern, creating X's from nose to tail with the corner of the bar of wax.
For a brand new board, you will likely need to add some extra wax after the first 2-3 sessions.
Do your best to keep the wax from melting or getting covered with sand, and your wax job will stay nicer longer.
Your first session on a brand new board is a memorable thing. Paddle out with confidence and sit wide of the crowd.  Wait for a few that swing over your way and ride them as long as you can, kicking out on the inside and repeating the process.
We have loads of articles on improving your technique and maximizing your time in the water. Commit to your new board and learn its intricacies. 
What's Next?