The Art of the Three Board Quiver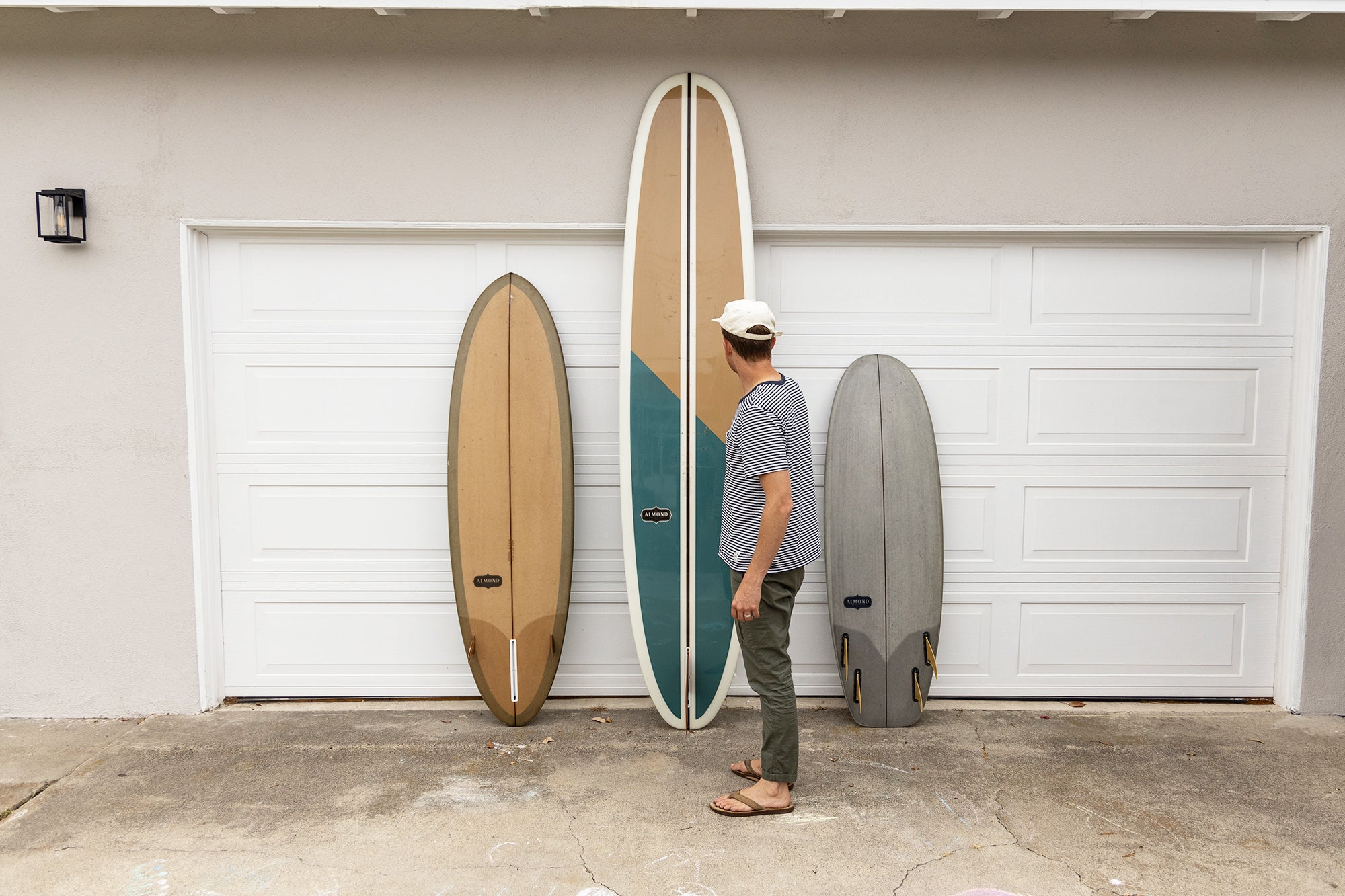 A well-appointed Three Board Quiver can cover the average surfer's basic needs for year-round surfing.  Any additional boards beyond the core three should be in pursuit of different or unique feelings under-foot. 
Here is how I—Dave—constructed my ideal Three Board Quiver...
The "Daily Driver"
As the name suggests, this is the go-to board that you are most comfortable on.  It's the board you should spend >50% of your time on. Getting a ton of reps on the same equipment will help your surfing progress faster.  You will have really great days on this board, where you feel invincible, and you will have really frustrating days on this board where you swear that you forgot how to surf.  It's all part of surfing.  We've all been there–embrace it.  
The important thing is that your Daily Driver is well-matched to your surf level and the expected conditions that you will encounter regularly.
When I was in college, my Daily Driver was a 6'0" Round-Nosed Fish.  I surfed that thing day in and day out for years.  Eventually I surfed it into the ground... I squeezed every bit of life out of that board before finally retiring it.  But the benefit of spending so many sessions on the same board is it eliminated the variable of equipment from my surf routine.  
Eliminating the equipment variable means that you can focus on the other parts of surfing: reading the wave ahead of you and your approach.  I distinctly remember a conversation with my friend Thomas, and we were talking about the feeling you get when you are bottom-turning on a fish, and you find the perfect combination of loading the fin and the rail… and the board feels like it sling-shots out of the bottom turn.  I spent the entire next surf trying to perfect that feeling and that highly-efficient bottom turn.  Those are the moments that push your surfing forward, and those are the moments that are best achieved when you spend a lot of time on your go-to Daily Driver.
After the retirement of my 6'0 Fish, my Daily Driver became a 9'7 Surf Thump.  I spent most of the next decade riding longboards primarily, and filtering in other smaller stuff periodically.
These days, my Daily Driver is a 6'6 Pleasant Pheasant.  I assume that is the board I am going to grab unless the conditions clearly call for something else.  I've found that at this stage in my surfing career (if I can call it that) the 6'6 Pleasant Pheasant covers the majority of my needs and still allows me the satisfaction of a decent wave every now and again.  There are still plenty of "I must have forgotten how to surf" days sprinkled in, just in case I start feeling overly at home in the lineup. 
So, for the sake of this exercise of establishing a well-appointed Three Board Quiver, my selection for Daily Driver is the 6'6 Pleasant Pheasant.
The "Primary Compliment":
The Primary Compliment to your Daily Driver should be a reflection of what your Daily Driver is, and the most glaring hole that it leaves in your quiver—based on expected conditions.
In my case, the 6'6 Pleasant Pheasant covers a wide range of conditions, but there are days when it's just not enough board for how small the waves are.  That board can manage in pretty meager conditions, but at a certain point, you simply can't replace length.  For year-round surfing in Southern California, a proper longboard is an invaluable tool; which is why the Primary Compliment to my Pleasant Pheasant is a 9'4 Surf Thump.  I have surfed every longboard model we make, and I have had extended flings with a few of them, but at the end of the day, I always find myself coming back to the Surf Thump. 
The 9'4 Surf Thump possesses everything I am looking for in a longboard, and ensures that my wave-count remains high. It's familiar and comfortable, even when my fast-twitch cross-stepping muscles aren't in tip-top shape. I will always have a longboard in my Three Board Quiver, and for the foreseeable future the Surf Thump fits the bill.
The "When the Situation Calls For It":
The third part of your quiver is more of a niche answer to less common conditions or circumstances. That could be a number of things—waves get big at home, when you are doing a family beach day and want to push the kids into waves, or when you go on a trip and need to have that good-wave board ready. This board gets the least amount of run but is critically vital for that perfect situation.
With a mid-sized Daily Driver and a longboard Primary Compliment already in my quiver, I go small with my third board.  When the waves are playful and peaky and the mood strikes, it is really, really fun to be on a small, skatey board.  For that reason my "When the Situation Calls for It" board is the 5'4 Secret Menu. The one I keep is actually the one Griffin shaped that we based the R-Series off of—so it has sentimental value, as well as a fun addition to my quiver when a small board is the way to go.
When there is a chest-high combo swell, you can bet that I am reaching for my 5'4 Menu.
What is your ideal 3 Board Almond Quiver, with these three categories as your guide:
Your Daily Driver: _______________________
Your Primary Compliment: _____________________
Your "When the Situation.." : ________________________
(we want to hear your ideal Almond Quiver)