Surf Tips: Keep Your Favorite Surfboard Looking Like New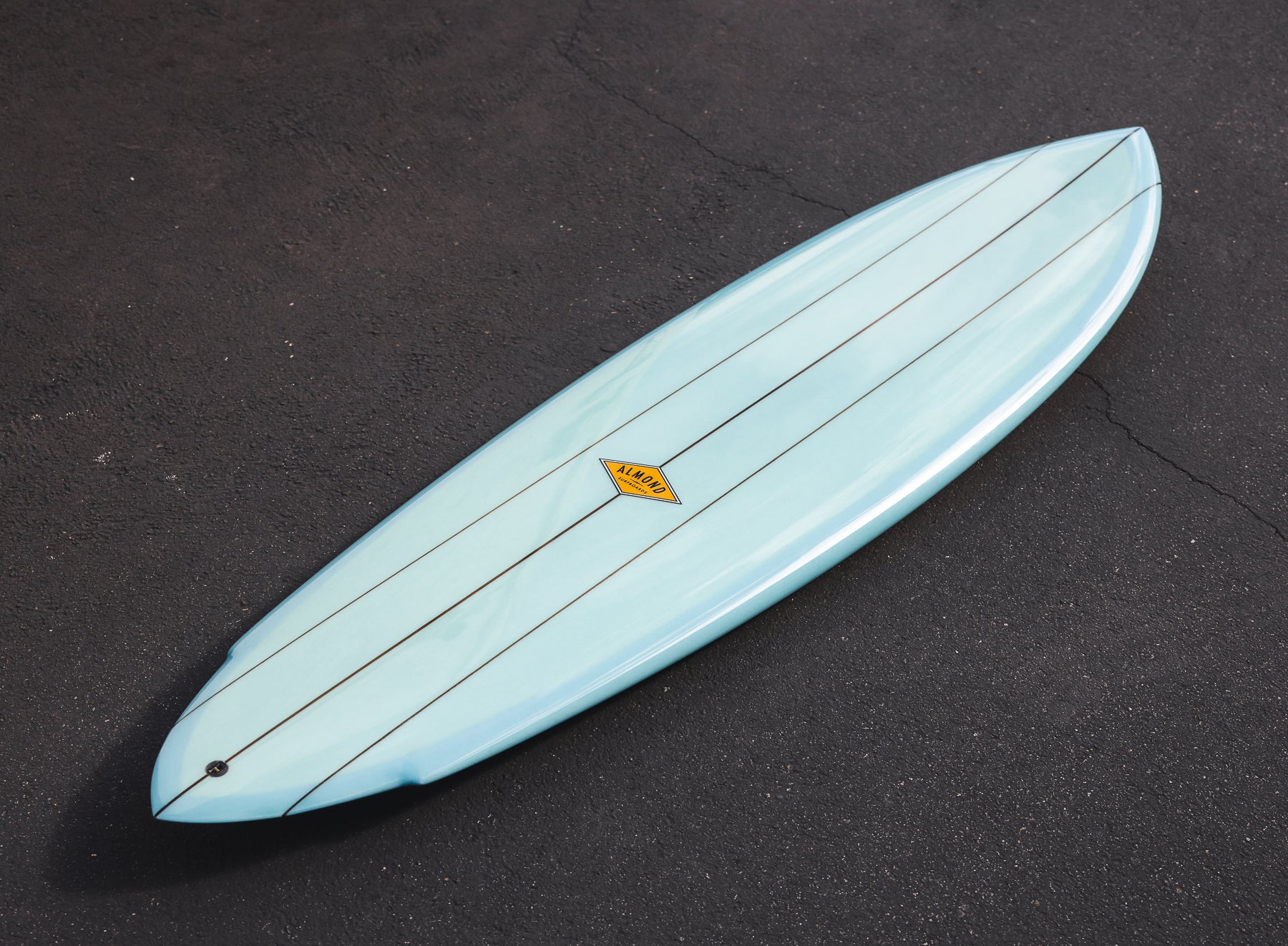 Surfboards are like the guitars of the outdoor recreation world... because they are both functional and beautiful to look at.
We hear it all the time: "it's almost too beautiful to ride..."
But, surfboards are meant to be ridden—and we have thoughts on how to keep your favorite surfboard looking like new.
1. Strip the Wax Completely and Give it a Fresh Coat.
Nothing will make your surfboard look newer faster than scraping all that old, half-melted wax off of it and giving it a fresh wax job. You won't believe what this simple act will do to freshen up your favorite board.
2. Order Your Surfboard with a Resin Tint, so it Won't Discolor Over Time.
We talk about this in our Guide to Ordering A Custom Surfboard, but a resin tint serves two great purposes: first, it makes your board beautiful from Day 1. Second, it keeps your board looking good, because resin tints won't yellow over time the way clear, white surfboards do.
Tip: Adding a resin tint to your custom surfboard will do wondrous things for its resale value, years down the road. A beautiful tinted board, when well maintained, will hold its value remarkably well.  Whereas a clear board that shows all of its aging and discoloration might be hard to give away for free. 
Want to learn more about the resin tinting process? Check out our Guide to Surfboard Resin Tints. 
Browse our range of: Resin Tinted Surfboards
3. Utilize a Leash and a Board Bag to avoid Costly Dings
No matter how good your ding repair guy is, it's nearly impossible to repair a board without some evidence of the damage.
The leash will help avoid damage from rocks on the shore and the board bag will help prevent dings and damage that occur outside the water (where I'm convinced 70%+ of surfboard dings occur).
We have fantastic surfboard leashes available, made from post-consumer plastic water bottles. The SYMPL Re-Leash is available in 3 lengths.
We also have great, no-frills board bags for daily use from StayCovered—perfect for transporting your favorite surfboard to and from the beach, and storing your board when it's not in use.
Shop: Leashes & Board Bags
4. Keep Your Surfboard Out of the Sun
A surfboard left to bake in the sun, even if it has a resin tint, will break-down over time. It's a little ironic that the two worst things for surfboards are water and sun and it's a sport that typically takes place in the water under the bright sun. Find a good place indoors to store your board—the longevity of your board will reward you.
5. Fix Your Dings Right Away
As important as anything on this list... fix your dings straight away.
Any crack or ding that you can feel with your thumbnail should get professional attention.  Water getting inside will rot your foam and act like a cancer inside your favorite board.  The foam will get soft and delaminations are likely to follow. (A delamitation is when the foam and the fiberglass separate, causing large bubbled areas. 
Want to learn more about caring for your Almond Surfboard? Check out our Complete Care & Repair Guide.