Surf Tips: Reduce Your Surfboard's Drag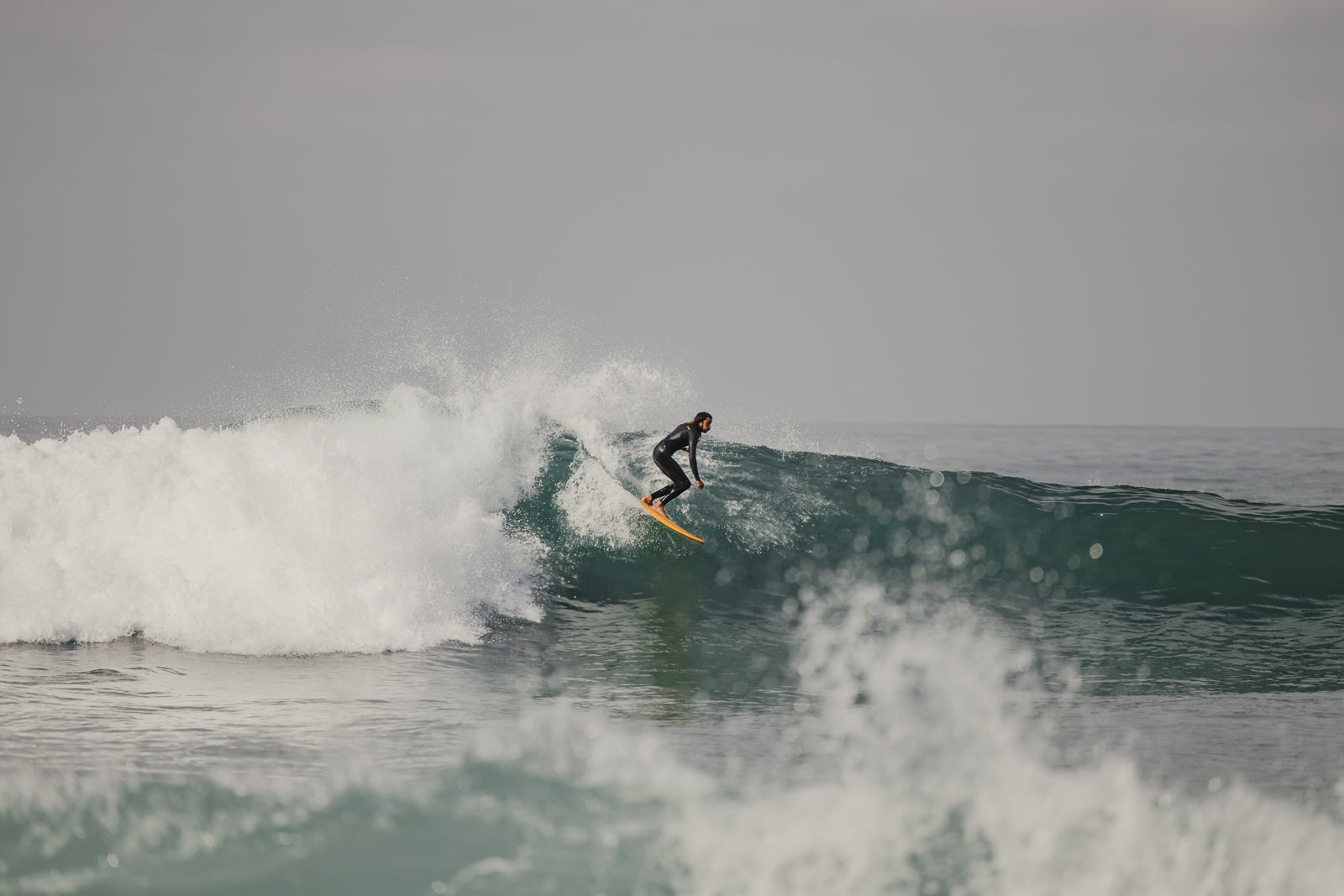 Want to consistently generate more speed and cut down on your drag through the water?  One simple change will make both things happen simultaneously.
There are many forces at play any time you paddle out into the lineup with the intent of riding waves down the beach.  Today, we are going to talk about a simple change to the way you surf that will increase success and have you beating sections you were previously missing.
And the good news is, it does not require changing equipment at all. 
Simply take a higher line.
When you take the high line, and utilize your rail you accomplish two significant things:
You utilize more of the wave's energy
Only a portion of your board is in contact with the wave
I can't help but watch how people are surfing when I'm at the beach.  Watching people in the lineup is how our brand messaging of the importance of catching waves earlier came to be. 
I see far too many surfers get into a wave, get to their feet, and then get stuck at the bottom of the wave where there isn't enough energy to really generate speed to keep up with the wave. This is especially true on mid-lengths, fishes, and shortboards.  Longboards have so much surface area that the margins are more generous—and they tend to help translate wave energy into forward momentum easier.
Effective speed-generating is crucial to riding smaller equipment.
When you get stuck in the flats at the bottom of the wave, your entire board is sitting in the water, and there is very little wave energy to draw from.
When you climb the face of the wave, and draw a higher line, you have many more options and many more forces working in your favor.
Apologies for my 5:00 am rough illustrations, I've only had one cup of coffee and I'm not Charles Schulz...
If you find that you are having trouble generating speed, or if you find yourself in a funk one day, where you just aren't surfing as well as you should be, try practicing a simple adjustment like this.
It can be easy to lose sight of the basics when you're having an off-day in the lineup, so keep this one in your back pocket, or better yet keep it at the forefront of your mind the next time you paddle out.