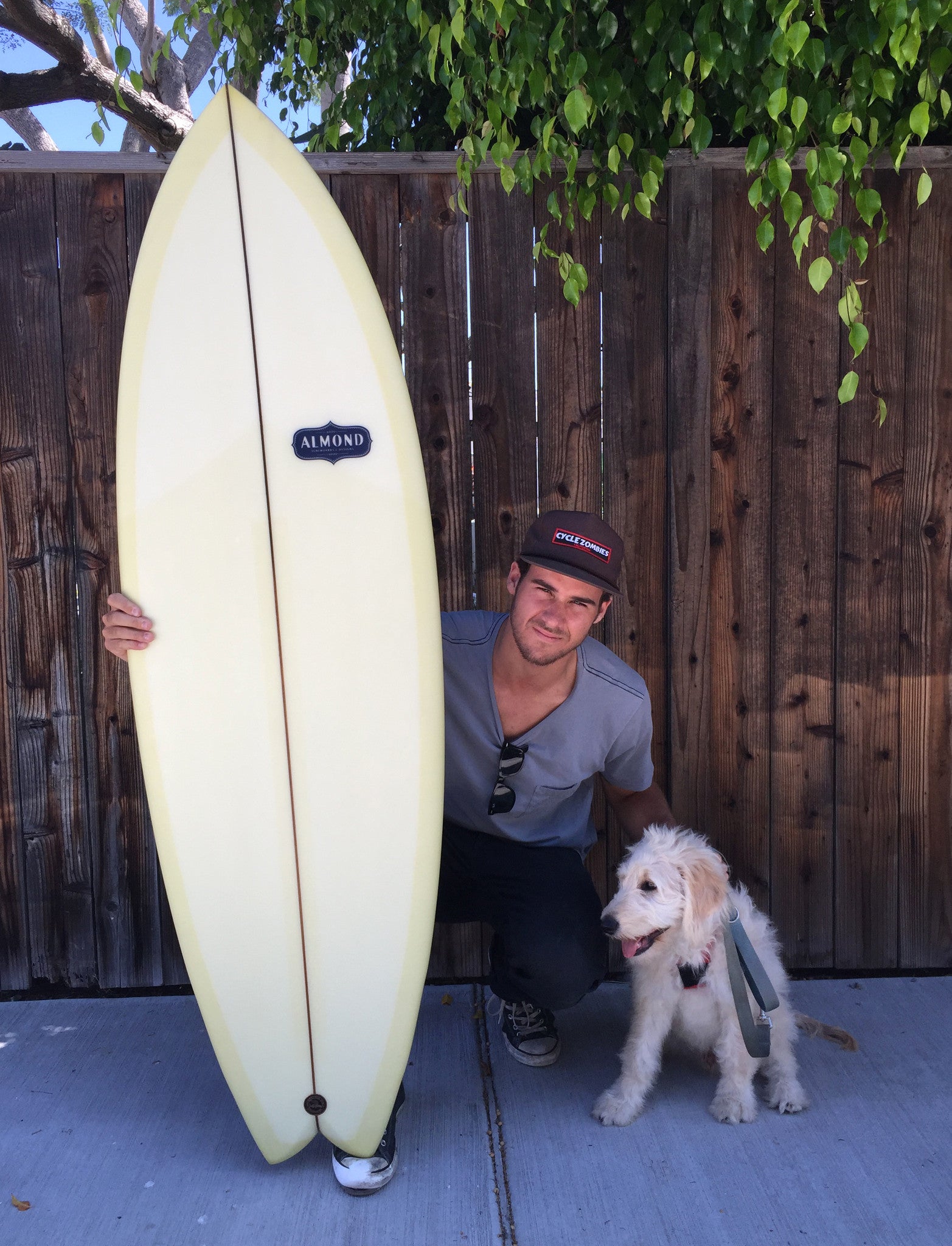 I first showed up to California with everything I owned crammed into an 8X5 U-Haul trailer. This included my bed, dresser, nightstand, 3 surfboards, and my 1994 Harley Sportster. I had just graduated college and was ready for the next big chapter in my life (while simultaneously being scared out of my mind.) I had just moved as far away from my home as I possibly could while still being in the continental US.
I'd lived in Virginia Beach, VA where it's flat 360 days out of the year my whole life and as a result all my short boards weren't exactly ideal for the variety and consistency of the waves over here on the west coast. So my first week at Almond I knew I had to put an order in for something new. I initially went straight for a 5'2 Stringerless Secret Menu. Dave let me borrow one last summer during my time as an intern and I instantly fell in love with that board and the amount of speed I could generate on that thing in 1' slop.
 That was what I was pretty much set on, the order card was all written out and in the book, until Griffin came into the shop one day to pickup order cards after an especially hot day in his Santa Ana shaping bay. He was talking about how he wanted to make something NEW. Griffin is an exceptionally talented craftsman and I figured this was the perfect opportunity to let him loose on something that he and I would both get stoked on.
When we first starting scheming up board ideas I was leaning towards a twin keel style fish but something that could still be pushed in some bigger surf. Similar to the fish that Ryan Burch has been making down South but since Almond already had a couple fish models that were too similar to feel totally new, Griff wanted to think a little bit more out of the box. We decided to stick with that same fish idea, being drawn to the effortless speed and drive they have to offer but kind of mix it up some and make it more maneuverable and versatile in crappy conditions.
I've always kind of been drawn to the shorter flatter style boards with their ability to gain speed and the skatey feeling I get from them, but I always am under-gunned when the waves start to pump. So we started off with a fairly narrow fish outline similar to our time-proven Quadkumber, but slightly curvier with a baby swallow tail. Then we added some very slight double bumps in the tail to help the tail release off the top and help pull the tail in to be able to complete cutbacks. We kept the nose fairly pulled in however to help it not get hung up on more critical waves. We then moved some foam up under the chest area to maintain a good amount of paddling power and wave catching ability, while still being able to ride it as short as possible. Lastly, we added a single concave in the front half fading into a slight spiral vee out the tail to help with rail-to-rail transitions.
When it came time to decide on a fin setup we both knew that it had to be a quad. Griff and I both have had great results with quads in the past and are both kind of addicted to them at the moment so it was a no brainer.
And just like that The Dirty Dudley, was born. The idea behind this model was not to necessarily be a quiver killer but a quiver enhancer. We wanted to make a board that people can take down the beach and have fun on and not really worry too much about the conditions. We designed it to have a lot of speed and flow but still be able to lay into it during a cutback - something that can grovel when its small but still be able to hold when the waves start to pump as well.
P.S. The name came from the new shop dog, a 4-month-old Golden Doodle named Dudley.
The Dirty Dudley is ready just in time for the end of Summer, which I hear is a great time to be a surfer in California. Looking forward to experiencing both new things in the coming weeks.