Tips for Buying Used Surfboards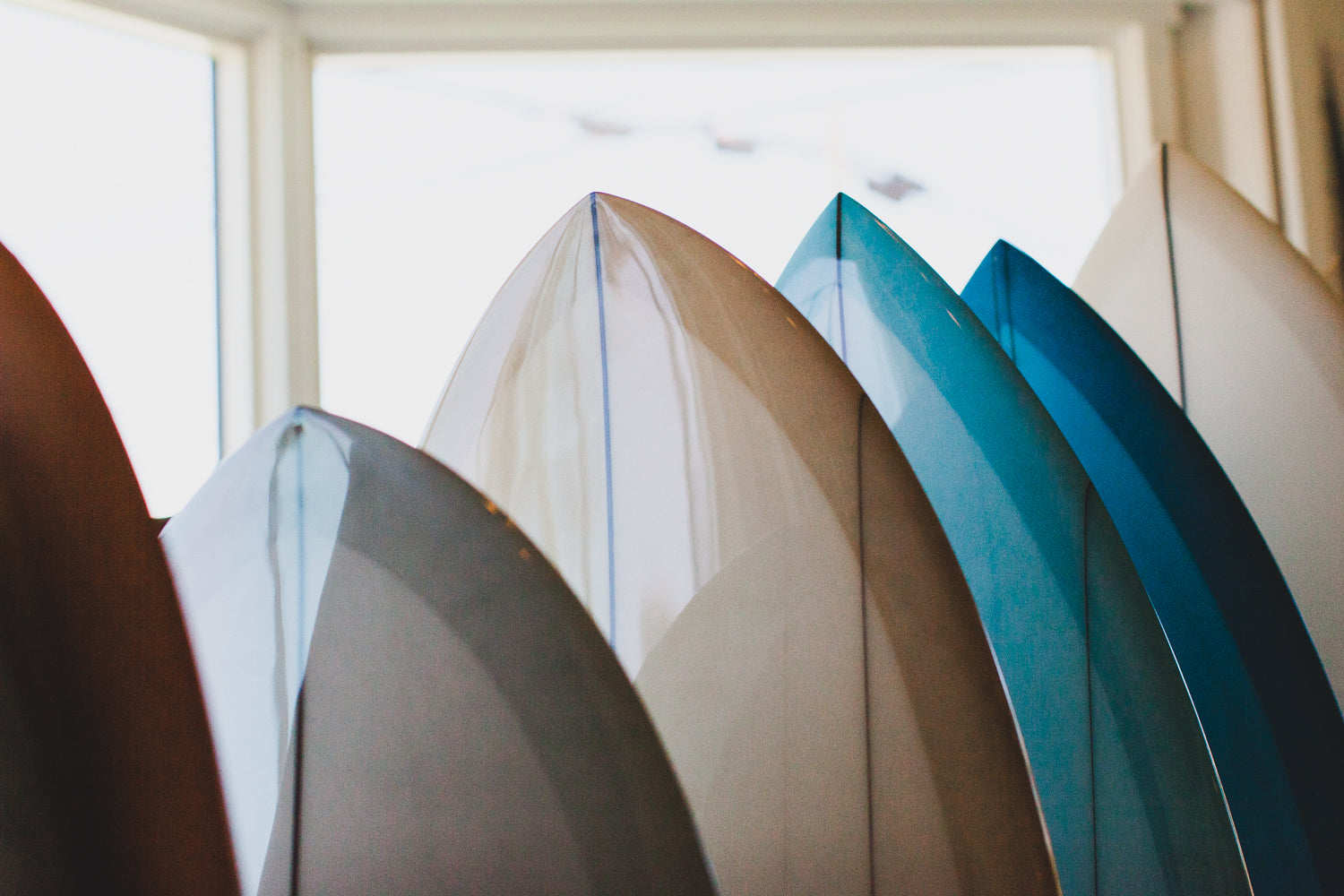 Let's say you've always been curious about adding a fish or a mid-length or a longboard to your surfing rotation, but you've been unsure about spending the money on something new and unfamiliar.  Enter... the pre-loved surfboard.
A good used board can be a fantastic way to diversify your quiver and expand your surfing experience.  
If you're mindful about the used board you pick up, you can actually do it with little-to-no risk, if it turns out not to be your cup of tea. Why? Because well-built used boards hold their value remarkably well. 
I'm giving away a secret here that I've historically reserved for friends or small talk in the shop.
You can pick up a good, used surfboard and ride it for several months—deciding whether or not it will be a useful addition to your surfing routine—and still have the option to sell it for roughly what you paid for it. (That's a free several month long test drive of a new—to you—surfboard.)
That allows you to try, test, ride, and decide before being totally financially committed to a new board.  Think of the Three Board Quiver you could build.
But there are 3 critical things to consider before buying a used board. Here are my tips from 14 years in the surfboard business:
Surfboards with Resin Tints will hold their value WAY better than those without.
This one can't be overstated, it might sound silly... but a clear (white) surfboard will look old much faster than a board with a resin tint on it.  The value of a used board is driven by the perceived value of the next potential buyer for that board.  A resin tint increases that perceived value by a large margin. That's one of the reasons we put color on a vast majority of our boards... we want them to last, look good, and be enjoyed for many, many years to come.
When you're buying a used board, look for one that will "age well", you'll thank me later.
Check out: Almond's Guide to Resin Tints
Check for Dings, Cracks, and Discolorations.
This is an obvious one, but worth reiterating. Stress cracks, delaminations, and un-checked dings are the cancer of surfboards.  Check the nose, tail, and rails for places where the foam appears to be dark or discolored, this means water has gotten to the foam.
Check out our Care & Repair Guide for the best practices for keeping your boards in great shape for the future.
Buy Used Boards from Shapers of High Reputation.
Our used boards are notoriously expensive... which is something we take great pride in.  Undoubtedly, you will find boards on Craigslist that will be cheaper.  They may even be similar in length, shape, and intended purpose...
I want to tread lightly here, because I don't want to discourage the next generation of up-and-coming shapers, but if you are adding a board to your quiver, you want to know what you're getting and be reasonably assured that the value of that board will still be there when you are ready to move on from it. 
You don't want to be the sucker fixing somebody else's poor purchasing decision. If an "only ridden once" 9'8" noserider is being sold on Craigslist for $400, it might be appropriately priced—and you might have a hard time getting your $400 bucks back out of it later.
If you are buying a used board, use it as an opportunity to get a board from a shaper whose boards might be out of reach otherwise.  A friend of mine scored a used Skip Frye glider a couple years ago—a surfboard he never would have been able to buy brand new—but he is stoked! Because it's a Frye, and he got a reasonably good deal on it.
I guess what I'm trying to say is... don't by cheap surfboards, buy really great surfboards for a price that fits your budget.
Looking to diversify your personal quiver? Browse our currently selection of Used & Pre-Loved Surfboards